Don Futaba

Don Futaba received his Ph.D. in December, 2000. His dissertation title was "Observations and Calculations of Adsorbed Organic Molecules and Surface Reactions on Metal Surfaces Using Scanning Tunneling Microscopy."
He is now a Research Scientist at the Research Center for Advanced Carbon Materials, National Institute of Advanced Industrial Science and Technology (AIST), Tsukuba, Japan. He is known for "Supergrowth" of carbon nanotubes. See his website at http://www.nanocarbon.jp/english/people/don.html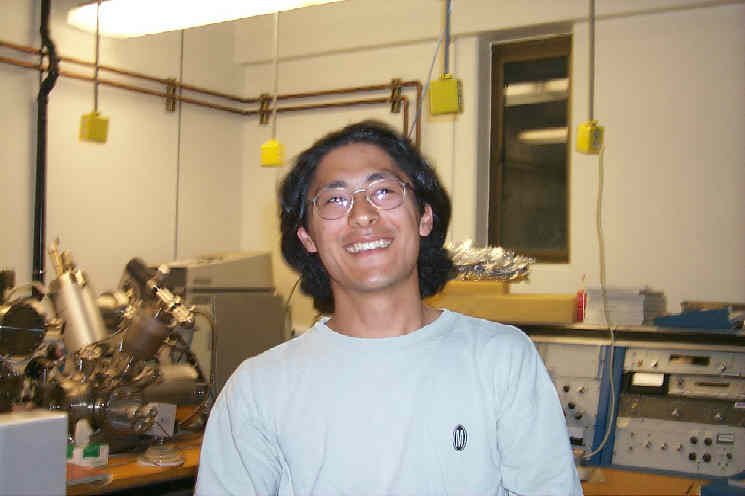 Publications
D. N. Futaba, and S. Chiang. Predictions of Scanning Tunneling Microscope Images of Furan and Pyrrole on Pd(111). Journal of Vacuum Science and Technology B15(3):5 (1997).
Don Norimi Futaba and Shirley Chiang.Calculations of Scanning Tunneling Microscopic Images of Benzene on Pt(111) and Pd(111), and Thiophene on Pd(111). Japanese Journal of Applied Physics, 38: 3809 (1999).
D. N. Futaba and S. Chiang. Calculations of Scanning Tunneling Microscopy Images of Xylene on Rh(111). Surface Science, 448, L175 (2000).
D. N. Futaba, J. P. Landry, A. Loui, and S. Chiang,Scanning Tunneling Microscopy Study of the Molecular Arrangement of Meta- and Para-xylene on Pd(111). Journal of Vacuum Science Technology A, 19, 1993-1995 (2001).
D. N. Futaba, J. P. Landry, A. Loui, and S. Chiang, Experimental and Theoretical STM Imaging of Xylene Isomers on Pd(111). Physical Review B, 65, 045106 (2002).
Contact him at this e-mail address: d-futaba@aist.go.jp

Return to Former Group Members
Return to Chiang Group Home Page
© Shirley Chiang - 2014.